Boulder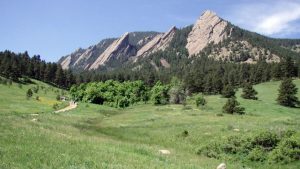 Tucked into a picturesque valley below the iconic Flatirons, Boulder hosts thriving tech and natural foods industries, supports a renowned entrepreneurial community, has some of the region's best restaurants, and is home to many federal research labs and a world-class university. No wonder this Rocky Mountain town of approximately 100,000 people is a world-class destination.
A Fun Place to Live
There are endless ways to get out and enjoy the 300-plus days of sunshine a year: from the hundreds of miles of hiking and biking trails to strolling down the historic Pearl Street Mall, renting a B-Cycle bike and riding along the more than 300 miles of bike paths, or hanging out by Boulder Creek for some great people watching.
Boulder has become a "foodie town." You can grab a bite to eat at any one of the many award-winning, innovative restaurants after a long day's hike. And while you're visiting what's considered "the Napa Valley for Craft Brewing," why not take a break for a cold one. In Boulder alone, there are dozens of some of the country's finest microbrews.
Boulder also has a vibrant cultural scene.  Each summer, it hosts the Colorado Shakespeare Festival and the Colorado Music Festival.  The newly-renovated Dairy Center for the Arts boasts multiple performance and gallery spaces as well as a state-of-the-art film theatre.  Nearby Red Rocks Amphitheater hosts world-class performances in every musical genre.
Nature and Parks
Boulder has preserved more than 45,000 acres of open space, much of which surrounds the city and helps maintain its geographical boundaries, with great hiking trails. Chautauqua, on the west end of Baseline Road, is one of the remaining few functioning Chautauquas left in the country following that historic movement. The city also boasts more than 60 urban parks. Boulder is a major gateway to the Colorado high country through the beautiful canyons carved by the branches of Boulder Creek.
Colorado
A recent survey reported that 97% of Coloradans love living here.  Why? Strong economy. Friendly people.  Amazing nature. Outdoor adventure of every kind: Skiing, hiking, running, kayaking. Weather too hot? Go to the mountains.  Too much snow on Boulder streets? Tomorrow's warm weather will melt it.
Colorado is where the mountains meet the plains.  It offers amazing diversity of terrain: Mountains, deserts, and plains.  Colorado has four wonderful National Parks: Rocky Mountain National Park, Mesa Verde, the Black Canyon of the Gunnison and the Great Sand Dunes as well as eight National Monuments and 42 National Wilderness Areas.
Colorado has great economic diversity: Local farming, ranching, high tech industries, alternative energy and extraction industries. Colorado has great urban areas, including Boulder, with excellent cultural amenities. It is diverse socially, ethnically and politically—the classic "purple" state.  Coloradans are independent minded, with a strong libertarian streak.  Coloradoans are also some of the fittest people in our country, perhaps because of our active, yet more relaxed, life style and the beauty of our natural surroundings. Nearly all of the population is concentrated on the Front Range, in front of the high mountains, and it is one of the fastest growing and most desirable areas of the country.