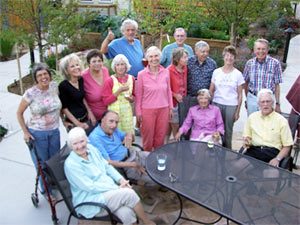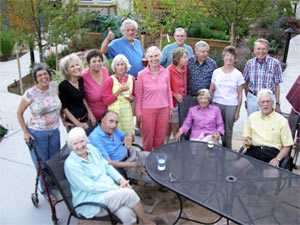 What are the common beliefs, if any, of Silver Sage?
We are a community of caring neighbors, intending to age in place together and to support each other as best we can in the aging process. Our members have a broad variety of spiritual orientations, ranging from particular religious paths to atheism. We are not a religiously based community. Our vision and values are evolving as our community matures, and include community, sense of place and time, collaboration and joy. We come together through our commitment to creating community.
What are the demographics of Silver Sage?
We range in age from late 50's to late 80's, with the majority of us in our 60's or early 70's. As a senior community, all our residents are at least 50. We are largely empty nesters, some of us single, some of us coupled, with many visiting grandchildren. Most of us are retired but a number of us are still employed.
What kind of neighborhood is Silver Sage?
Silver Sage is part of the Holiday Neighborhood in North Boulder, a converted drive-in movie theater lot (we still have the sign). Holiday is a new urban neighborhood, with emphasis on high-density residences with low height. Holiday is walkable, close to public transportation, restaurants, coffee shops, a small library, and undevelopable open space, with a thriving artist community.
Silver Sage itself occupies half a city block. It is organized around a landscaped central courtyard, with raised garden beds, outdoor seating and eating areas.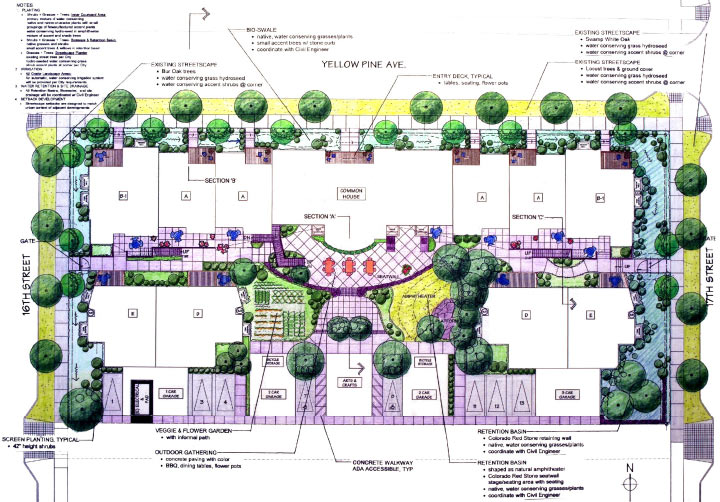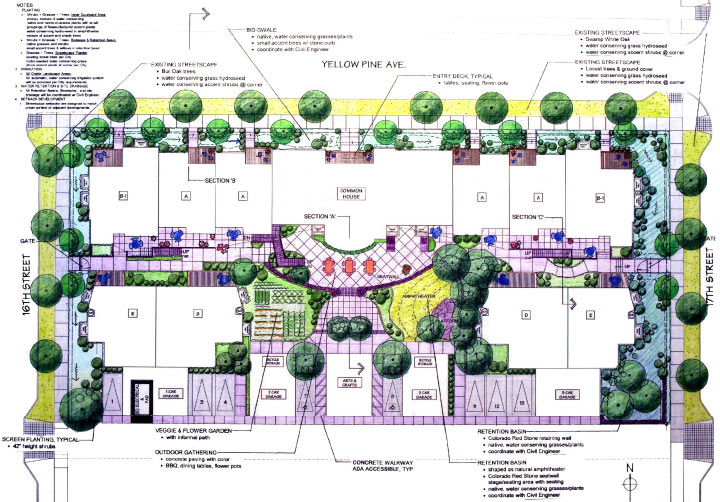 What are our residences like?
We have 16 homes, 12 in our main building that also contains our Common House. We also have two duplexes across the courtyard from our main building, each containing two homes plus a rental basement apartment. Like the rest of the Holiday Neighborhood, Silver Sage is a combination of market rate homes and homes designated as permanently affordable under Boulder's housing program. Our homes range widely in size from about 850 square feet to about 2200 square feet. They feature solar hot water heating as well as senior-friendly and energy efficient appliances and fixtures. In typical cohousing fashion, our garages and parking spaces are located on the periphery of our common space so most residents walk through our community to their homes.
Each home is complete in itself, with kitchen, living and dining area and two or more bedrooms, so that members can choose when they prefer privacy and when they want to participate in community life. At the same time, because our Common House is so well equipped, we don't need so many things in our individual homes. For example, about half of our members have private washers and dryers, while the other half make use of the Common House laundry room.
What are our common facilities?
Our shared amenities include a 5000 square foot Common House with a gourmet kitchen, dining room, media room, exercise room, craft room, meditation room, laundry room, individual storage areas and two bathrooms. We have a shared workshop, garden shed, bike shed, and raised garden beds. An artist coop has been established in our Common House, where four local artists share studio space and participate in local NOBO (North Boulder Artist Group) activities.
How do we use our common house?
We gather in our common house for many of our communal activities, including twice a week potlucks, sharing circles, social activities and team and community meetings. We host parties, outside speakers, and concerts there. We offer classes in several movement practices, including Gyrokinesis®. The Common House also contains individual storage facilities and a shared laundry room. Since the common house is an important extension of each member's home, members also reserve portions of the Common House for a variety of personal events, including private parties and meetings of outside groups to which they belong, such as book clubs and community groups. We also make our Common House available on a fee basis to outside groups and individual practitioners for activities ranging from weddings to local HOA meetings, to massage therapists and other body workers, to cooking and writing classes. Our photo gallery includes photos of the Common House, both inside and out.
How do "common meals" work?
When we first moved into Silver Sage, we wanted to start eating together right away but knew we couldn't manage to prepare meals together (many of us had never cooked for such a large group and we all were overwhelmed with just getting settled). So we began twice a week potlucks, which required little organization. We soon decided we ate better and less expensively with less effort, so our tradition has continued. We think we have some of the best food in Boulder, with each of us contributing what we choose. We post what we're bringing on our internal website and it all works out.
How are we organized and governed?
Our major decisions are made in our monthly business meetings, that are facilitated and recorded by members of the community. We make these decisions through consensus, in which we strive to have all members participate and listen to each other and reach agreement on decisions that will serve the best interests of our community as a whole.
The functional life of the community is primarily carried out by five standing teams: Community Enhancement, Gardens and Grounds, Common House, Systems and Buildings and Finance and Legal. We also have a Steering Team, largely made up of representatives from each of our standing teams, which serves as our Board of Directors. Members are expected to participate in one of the standing teams, which typically meet monthly and conduct much of their work between meetings. Silver Sage is also an incorporated homeowners association, to which all members belong. Our HOA collects monthly dues to pay for our common area utilities and maintenance, insurance, etc. While our Steering Team functions as our legal Board, most decisions not delegated to teams and affecting the community are brought to the monthly community meetings.
How did Silver Sage come about?
Silver Sage was envisioned and developed by Jim Leach and Wonderland Hill Development Company, leaders in the national cohousing movement. Jim was inspired by the book From Age-ing to Sage-ing: A Revolutionary Approach to Growing Older, by Zalman Schachter-Shalomi, to found one of the first senior cohousing communities in the country. In 2003, he began working with the City of Boulder and prospective members to develop Silver Sage as part of the Holiday Neighborhood in North Boulder, which has become a national model for new urbanist living. After several years of design, construction and community building meetings among Wonderland and prospective members, Silver Sage broke ground in 2006 and our original owners moved in during late 2007 and 2008.