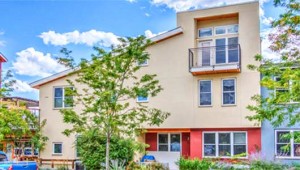 Silver Sage Village has sixteen units, all owner-occupied. There are ten market-rate units in the $650,000-$890,000 price range and six permanently-affordable units at around $150,000 with a program through the City of Boulder.
Every home, no matter the price, has at least two bedrooms in addition to a living room, dining area and kitchen. Larger homes have additional rooms, lofts or finished basements, etc. When a home is located on the upper deck, an elevator takes you downstairs to the Common House and lush Courtyard. It's an easy walk to trails, coffee, eateries, and the SKIP bus to downtown. All RTD transportation is free, thanks to a community-sponsored Eco-Pass.
Homes for Sale
A beautiful and efficient home (1000 sq.ft.) plus detached 1 car garage has just become available in the $600,000 range. Closing dates are flexible for the right person or couple; there is no rush. Click here for a video tour.  (Under Contract)
In addition to this unit, four of our founding and longtime members, occupying three units, have decided to move into a Continuing Care Retirement Facility in Boulder. The owners are committed to finding buyers who are dedicated to the concept of cohousing and who will be productive members of Silver Sage Village. The units will be officially offered for sale and priced on March 1, but we estimate they will be in the $800,000+ range. There has been a great deal of interest in these three homes with Right of First Offers signed on two of them already. The owners can be flexible in establishing closing dates because their new units will not be completed until January 2020.  Click here to view photos of one of the homes.
To learn more about any of these homes please contact us to join our Buyer-Interest List.
Buying a home at Silver Sage is more than a real estate transaction – it is a decision to become part of our community. It is important that potential new members of the community learn more about cohousing and the unique aspects of Silver Sage before making their buying decision. The more you understand, the easier it will be for you to decide if Silver Sage Village is a good fit for you and a place where you want to live and age in community.
After you have contacted us and had an initial tour, if you decide you want to go further the seller will arrange for you to attend at least one potluck, a more formal orientation and a community business meeting, so you will have a real sense of our community life. In our orientation, you'll get to ask questions about what it's really like to live here, about our governing documents and agreements and any other questions. We'll also get an opportunity to learn more about you and your interest in Silver Sage. While Silver Sage does not approve or reject prospective members, we find these conversations help people determine if life at Silver Sage Village is right for them.
If you are interested in seriously exploring a move to Silver Sage, please join our buyer-interest list. We welcome your visit to learn more about cohousing at Silver Sage Village.